The energy business in transition
We produce rich gas with multi-year development capacity, facilities operating at less than half capacity, surplus markets, and transportation capacity.
We buy and ship gas.
We develop  gas-fired, solar and wind power with multiple grid-scale projects in the AESO grid access and regulatory approval queue.
We consolidate natural gas development and production properties, seeking to own and produce sufficient gas for our clean energy markets.
Our long-term aspirations:
We want to provide low-to-no emissions, dispatchable, reliable, low-cost energy and related products and services
o    Gas, ngl, oil
o    Electricity
o    Hydrogen
o    Carbon dioxide
o    Carbon financial instruments
o    Power purchase agreements
o    Gas gathering and processing services
o    Carbon dioxide capture and storage service
We want to implement best-for-purpose, emerging commercial technology to capture and manage carbon and produce clean consumer-ready electricity and hydrogen for the energy markets of the future.
Strategically located Fox Creek assets with established strong production, reserves base and transportation infrastructure optionality.

Solar project 1 (Homestead)
Our proposed 400-megawatt (MW) solar energy project located approximately 11 kilometres south east of Claresholm, Alberta.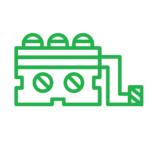 Our proposed 100 megawatts high-efficiency natural gas project with a carbon capture pilot.

Learn more about our long-term goals to become a provider of low-to-no-emissions, low-cost energy.