Kiwetinohk, pronounced Key-Wheat-In-oh,
means north in Cree, the most widely spoken Indigenous language in Canada.
Our name means north in Cree. Bestowed by Indigenous friends, our name reflects the high value Canadians place on our natural environment and honours the strong role of stakeholders and Indigenous peoples in our past, present and future.
Who is Kiwetinohk Energy Corp?
Kiwetinohk is an Alberta-based energy transition company that aspires to be a Canadian leader in the global transition to low carbon energy. Kiwetinohk operates in the belief that, in the longer term, a business must be sustainable to be profitable and profitable to be sustainable. Kiwetinohk plans to capture primary solar and natural gas energy and convert it to a sustainable energy source.
ESG leadership through stakeholder inclusion
At Kiwetinohk we recognize that the fortunes of our stakeholders are inseparable. In the long term, for any to benefit, all must be engaged and contribute. We acknowledge these stakeholders and the duty to address the reasonable desires of each:
People, everywhere, who seek to protect the environment want us to reach beyond compliance and find ways to lead the energy industry in reducing the environmental impact of our activities, restoring disturbed land and reducing greenhouse gas emissions intensity
Governments and regulators want us to comply with all laws and regulations and to advise them of changes that would enable the industry to better serve society
Communities most impacted by the Company's activities, including Indigenous communities, want to participate in planning, building and operating projects and in promptly restoring the land when the projects are done
Industry partners want us to honor our arrangements and reasonably accommodate change and adaptation
Customers want us to reliably deliver our products at the specifications and in the amounts that we forecast
Suppliers and service providers want an opportunity to compete for our business, to be paid promptly and fairly, and to contribute to the evolution of our business
Employees want an energizing, inclusive, happy work environment where everyone is treated with dignity and respect, to be compensated fairly and a safe and healthy workplace
Capital Providers want strong returns on their investment, effective communication, and management of risks; financial, environmental and reputational
We at Kiwetinohk see ourselves in the business of serving our stakeholders and together, with them, we will strive to produce energy. By engaging all our stakeholders openly and honestly and by encouraging their participation in our business we expect to best serve each of them. This goal of building a better enterprise by stakeholder engagement and accommodation is our prime directive. The pursuit of this objective is the foundation of all Kiwetinohk's management conduct policies.

A serial entrepreneur, Pat founded Kiwetinohk to help lead the transition to sustainable energy in Alberta.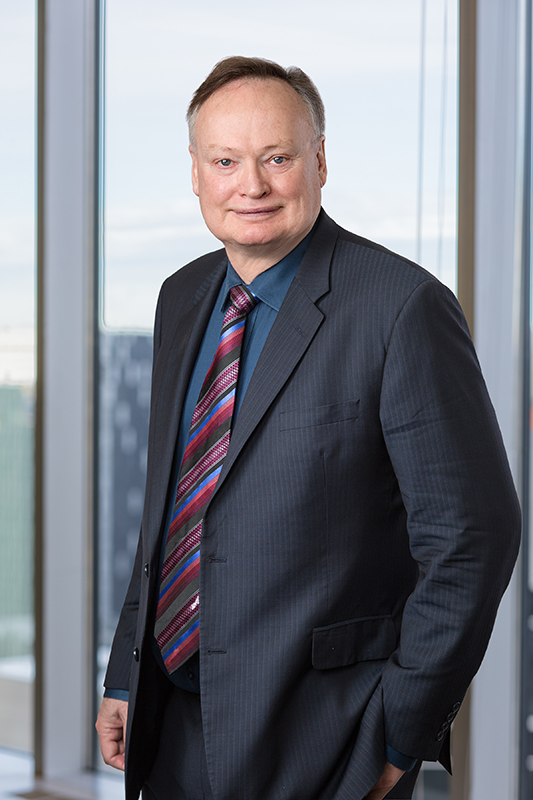 Kevin Brown is the Co-Chairman and Director of ARC Financial Corp. He has been with ARC Financial Corp. since 1989.
Beth Reimer-Heck has been senior counsel at BLG LLP from 2009 to present. Ms. Reimer-Heck is also an advisory board member of Saskatchewan Mines and Minerals Inc. and a director of United Way, Calgary.
Judith Athaide is a corporate director, entrepreneur, professional engineer and certified corporate director.
Patrick Carlson has been the Chief Executive Officer of Kiwetinohk since February 12, 2018 and President and Chief Executive Officer of Distinction since April 2021. Prior to founding Kiwetinohk, he was the Chief Executive Officer and a director of Seven Generations Energy Ltd. until his retirement as CEO in June 2017 and his resignation from the board in May 2018.
Leland Corbett is a partner at Stikeman Elliott LLP. He has been at Stikeman Elliott LLP since 1994.
Kaush Rakhit is the Chief Executive Officer of Canadian Discovery Ltd. He founded Rakhit Petroleum Consulting Ltd. in 1989, which purchased and merged with Canadian Discovery Ltd. in 2005.
Steve Sinclair is retired. He was previously a Director and Audit Chair of TransGlobe Energy Corporation and of Deltastream Energy Corp.
John Whelen is a former senior executive at Enbridge Inc. where he held a number of roles, including Executive Vice President and Chief Development Officer, Executive Vice President and Chief Financial Officer, Senior Vice President and Controller and Senior Vice President of Corporate Development.